What's New at Sanford Sewing
September is National Sewing Month. We are offering classes for new sewers and quilters, but classes are open to anyone wanting to brush up on their sewing skills. Plus we have two national teachers coming to share their expertise with you. Sign up early because space is limited.
UPCOMING CLASSES:
WE WILL BE CLOSED SEPT 1ST - 3RD.
Wed, Sept 5, 2 – 3:30pm Know your sewing machine

Wed, Sept 12, 2 – 3:30pm Know your Serger
Wed, Sept 19, 2 – 3:30pm Know your Embroidery Machine
Thu Sept 20, 10 – 11am HQ DEMO

Thu, Sept 20, 1 – 2pm Embroidery Club
---
Master your BERNINA Sewing Machine
Fri Sept 7, 10am – 1pm
Get the most out of your BERNINA sewing machine by exploring all the stitches and functions in your machine. We will be using the BERNINA workbook for this class. You complete a sample for each page and go home with a completed reference book. This is the first in a series of workbooks.
Cost is $25.00 or free if machine purchased here.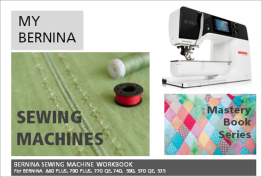 ---
Featherweight Sewing Machine Maintenance
Thu Sept 13, 10:30am – 12:30pm
These fantastic little machines were so well engineered that the owner could (and should!) provide the maintenance they need.This is a maintenance workshop designed to teach the care that these machines require on a regular basis. Machines that are in need of repair may not participate in this workshop until they have been repaired.
Cost $25.00
---
Embroidery Trunk Show and Classes with Belinda

22nd September 2018
Join us for a trunk show follwed by hands-on Classes
CHRISTMAS WREATH - Teaching double sided applique making a wreath


MULTIPLE HOOPING – CONTINUOUS BORDERS -continuous borders using real size templates


Belinda, a traveling teacher and professional digitizer developing techniques and traveling the world sharing her knowledge and designs. Trunk Show with Show and tell and lots of tips and tricks
Followed by hands-on classes
Class kit, step-by-step photo instructions and design cd included FEE $50.00
---
FALL INTO QUILTING WITH HANDI QUILTER
October 26th & 27th

J

oin us for a two day education event with Handi Quilter Educator Gail Berry-Graham. Classes will include hand on time on our machines. Sign up for one, two or all the classes.


Day one - October 26th, Morning class 9:30am - 12:30 pm
STEPPING STONES TO QUILTING YOUR FIRST QUILT
This class is for everyone – whether you've never quilted and want to learn, or if you already quilt. You will learn how to prepare the quilt top, resize and apply designs, select batting and backings, baste, and all about threads, needles and tension. Bring a finished top, if desired, to discuss ideas and approaches to finishing your quilt.
Afternoon class 1:30pm - 4:30pm
SIT-DOWN MACHINE-QUILTING BASICS
Do you quilt on a sewing machine, but long for more space? Are you unsure if you are "doing it right"? Come discover how the HQ Sweet Sixteen machine, plus tools and tips, can improve the quality of your work and the pleasure of your quilting experience. The machine's features make free-motion quilting a breeze, and additional creative feet and gadgets open a whole new world beyond meandering.
DAY TWO Morning class 9:30am - 12:30 pm

STAND-UP LONGARM MACHINE QUILTING BASICS

Does longarm quilting interest you, and you'd like to learn more about it? Or do you just want a review of longarm basics? This class removes the mystery of longarm quilting by explaining machine and frame elements and features, how to load a quilt, and vital facts about thread, needles and tension. Handi Quilter longarm and frame systems come in various sizes for every budget, are userfriendly because they are designed by a quilter, for quilters – just like you!
Afternoon class 1:30pm - 4:30pm

RULER ESSENTIALS

If you love precision and consistency in your quilting designs, you will love using design rulers and templates! These handy tools assist in placing designs accurately and stitching them out precisely. Learn to handle rulers and templates safely with the ruler base and Sure Foot, and how to achieve accuracy with the markings. The wide variety of Handi Quilter rulers will inspire you to new design heights.
Cost is $35.00 per class, or $75.00 per day includes lunch Class size is limited, per-registration required.
---
Beginner Sewing Class
Be part of the worldwide program to encourage sewing. 6 one day classes, beginning the week of Sept 10 finishing the week of Oct 22. The Class Fee is $25. Make sewing social! Encourage your friends to enjoy these classes with you. Each class in this program is independent of the others. You can pick and choose the classes according to your schedule. You do NOT have to attend week one to participate in any of the following weeks. Share the fun with your non-sewing/or sewing friends. ***Sewing machine is required but projects are easy enough that a sewer can share a machine with her non-sewing friend and still finish their project in the 2 1/2 hour frame.

Cost: $ 25.00 per class
---
Beginner Quilt Class
Ready Set Sew, This is a beginners quilt class. We have made some of the decisions for you to make it easier to focus on the sewing. The Captivate quilt is a very easy quilt to sew. Made with Quilting Treasures fabric in ivory and red, perfect for the holidays or as a gift. Finished size is 46 1/2" x 61 1/2". This is a two block quilt which can be put together in a variety of ways. This is a four week, 2 hours each week to complete the quilt top.
Class is $25.00 and the kit is $79.99.

Wed Sep 5,12,19 &26 10am – 12pm


---
Celebrate Sewing All September with a BERNINA Anniversary Edition Bundle*
FREE Golden Bundle Valued at $3,600 with your purchase of a B 880/790 Plus Anniversary Edition machine. Come in to see this beautiful machine and Bonus Bundle.
---
---
Sanford Sewing
1923 Main Street Sanford, ME 04073
(207)324-8375
info@sanfordsewing.com