What's New at Sanford Sewing
UPCOMING CLASSES:
Wed Jul 11 9:30am – 12:30pm Kids Camp, learn to Sew


Wednesday, July 11 1 – 3:30pm SEW DAYS


Wednesday, July 11 2 – 3:30pm Know your Serger


Wednesday, July 11 4 – 5pm Foot of the Month


Thu Jul 12 10am – 12pm Serger Maintenance


Wednesday, July 18 9:30am – 12:30pm Kids Camp, learn to Sew


Wednesday, July 18 1 – 3:30pm SEW DAYS


Wednesday, July 18 2 – 3:30pm Know your Embroidery Machine


Thursday, July 19 1 – 2pm Embroidery Club


Friday, July 20 10 – 11am HQ DEMO


Wednesday, July 25 9:30am – 12:30pm Kids Camp, learn to Sew


Wednesday, July 25 1 – 3:30pm SEW DAYS






WE WILL BE

CLOSED

FOR THE

JULY 4TH

HOLIDAY.

ENJOY THE DAY.




---
Serger Maintenance
Thu Jul 12 10am – 12pm
Cost $15.00

Join us for an informative class on maintaining your serger. Just a little cleaning and oiling will keep it running for a long time.



---
Christmas in July starting July 14th, for 12 days we will have daily inspirations for everyone on your list. All our holiday fabric is in stock now. Start planning your holiday sewing now.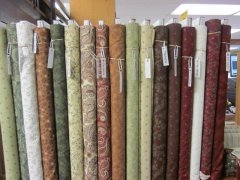 ---
See us at Maine Quilts 2018, July 26th - 28th. Don't forget to drop off your quilts July 21st.
We will have two national educators in our booths. So please stop in and see our demonstrations.
Mary Beth Krapil from Handi Quilter in one booth.
Mary Beth Krapil has been an avid sewer since childhood, teaching quilting classes since 1998. Her goal is to share her knowledge and passion for quilting. She loves teaching the basics to new quilters and also enjoys introducing new techniques and ideas to experienced quilters. Traveling worldwide, Mary Beth teaches longarm quilting at major shows both in the US and at international venues. She conducts events at numerous retail shops, longarm clubs, and guilds. She has appeared on Quilt It, The Longarm Quilting Show on QNNtv. An expert on the Pro-Stitcher®, Mary Beth is a certified Art and Stitch instructor. (Check out her chapter in the Art and Stitch Special Techniques guide). Sharing the joys of computerized quilting and digitizing with quilt makers of all skill levels, Mary Beth makes it fun and easy for anyone to learn.
Aaron Hoskins is a blogger,designer, educator and a certified Ambassador of Education for Baby Lock. His interest expands from all things sewing, quilting, serging and crafting.
Make plans now to bring home a new machine!

---
FALL INTO QUILTING WITH HANDI QUILTER
October 26th & 27th

J

oin us for a two day education event with Handi Quilter Educator Gail Berry-Graham. Classes will include hand on time on our machines. Sign up for one, two or all the classes.


Day one - October 26th, Morning class 9:30am - 12:30 pm
STEPPING STONES TO QUILTING YOUR FIRST QUILT
This class is for everyone – whether you've never quilted and want to learn, or if you already quilt. You will learn how to prepare the quilt top, resize and apply designs, select batting and backings, baste, and all about threads, needles and tension. Bring a finished top, if desired, to discuss ideas and approaches to finishing your quilt.
Afternoon class 1:30pm - 4:30pm
SIT-DOWN MACHINE-QUILTING BASICS
Do you quilt on a sewing machine, but long for more space? Are you unsure if you are "doing it right"? Come discover how the HQ Sweet Sixteen machine, plus tools and tips, can improve the quality of your work and the pleasure of your quilting experience. The machine's features make free-motion quilting a breeze, and additional creative feet and gadgets open a whole new world beyond meandering.
DAY TWO Morning class 9:30am - 12:30 pm

STAND-UP LONGARM MACHINE QUILTING BASICS

Does longarm quilting interest you, and you'd like to learn more about it? Or do you just want a review of longarm basics? This class removes the mystery of longarm quilting by explaining machine and frame elements and features, how to load a quilt, and vital facts about thread, needles and tension. Handi Quilter longarm and frame systems come in various sizes for every budget, are userfriendly because they are designed by a quilter, for quilters – just like you!
Afternoon class 1:30pm - 4:30pm

RULER ESSENTIALS

If you love precision and consistency in your quilting designs, you will love using design rulers and templates! These handy tools assist in placing designs accurately and stitching them out precisely. Learn to handle rulers and templates safely with the ruler base and Sure Foot, and how to achieve accuracy with the markings. The wide variety of Handi Quilter rulers will inspire you to new design heights.
Cost is $35.00 per class, or $75.00 per day includes lunch Class size is limited, per-registration required.
---

Koala Studio Floor Model Sale- Purchase a new Koala Cabinet at 30% off MSRP, Enter to win a Sew Comfort XL Chair



---
---
---
1923 Main Street Sanford, ME 04073
(207)324-8375 info@sanfordsewing.com