Fat Tuesday - Feb. 28th, Tuesday
Purchase 25 fat quarters for $25.00, in stock only
when there gone, there gone.
ONE DAY ONLY!

---
World Wide Quilt Day - March 18th.
We have a full day of demo's planned.
Join local independent quilt shops around the world to celebrate Worldwide Quilting Day on
March 18, 2017. Help spread the word!
State of Maine Quilt Shop Hop starting April 1st, all month long. For more than a decade the independently owned quilt shops of Maine have collaborated by inviting their customers to spend the month of April "hopping" from shop to shop. Customers print out passports and have them stamped at each of the shops they visit. At the end of the month, hoppers send in their completed passports and are entered for a number of wonderful prizes. Prizes are donated by the local shops and the companies and manufacturers who make the fabrics, books, patterns and notions that we all love.
This year's fabric is Kashmir from Westminster fabrics





Sanford Sewing Machines has been awarded the 2017 BERNINA EXCELLENCE DEALER status. We value our customer relationships and strive to educate our customers to achieve the most from their machines.





We also received the Handi Quilter 2016 HQ Way Award for delivering results through superior service, education and inspiration.


HQ Club starting March 18th 1pm. Come see what's new with Handi Quilter.

CAPSULE CLUB BY BERNINA
Discover ways to integrate the overlock into every day sewing while creating a capsule wardrobe. Quarterly lessons will focus on creating four seasonal pieces in conjunction with indie pattern designers and BERNINA Ambassadors.
Each Capsule Club will include:

Overlock Outline with tips, finishing tips and techniques

Ramp it Up! Handout to make your garments unique

Indie pattern with designer's insight




Class $20.00, pattern additional

LESSON

Webinar of presentation
Demo station to try techniques
Capsule planning – bring pattern/fabric selections to discuss before cutting.
Show and Tell of finished patterns, reward given for finished pieces using capsule patterns.
Measurements by appointment
Monday, March 6, 2017, 10:00 am to 2:00 pm

Create some basic summer staples including a basic dress, skirt and even pajamas! Learn how to incorporate the overlocker and feet and accessories to accomplish these tasks flawlessly.
The patterns from Alison Glass Sew contains a master pattern with 5 or 6 variations. Along with complete directions for making a muslin to fit.
BERNINA SPRING SALE
MARCH 16-20
SCRATCH OFF TO SAVE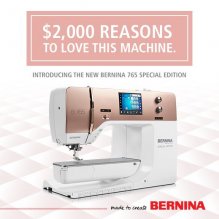 Did you miss this special during the Holidays? We just received one BERNINA 765 that qualifies for the Holiday bonus. Purchase a B 765 SE and receive one of the following gifts:

B330

BERNINA Quilting Kit

Embroidery Module


BERNINA BLOCK PARTY

LIVE FACEBOOK KICKOFF PARTY
MARCH 3, 2 PM


sign up on the We All Sew facebook page or come into the shop and watch with us.





The first Monday of each month a new block will be available. We are making our quilt in the Cotton & Steel fabrics. Kits may be purchased. As a Bonus the 3rd Monday of each month a bonus project will be posted using the featured block.
Four Seasons by In the Beginning Fabric.


A quarterly panel with matching fabrics to us in a quilt, pillow or other project.

MODA Liberty Gatherings fabric just in!




We have the primitive gatherings BOM and Scrap It Up Book which use these fabrics. Purchase the BOM pattern book and receive 20% off of the fabric to complete your project.